WELCOME TO
THE CLASSIFIED TRADER
Business and Private
Classified Listings For The Internet
The Classified Trader trades classified ads with over 150 different web sites and growing.

You have a web site for your business now what? Most companies spend 100's every month to be listed in a web site or in a earch engine with all of their competition right there with them.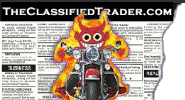 Termie the Classified Termite


Autos, Boats, Motorcycles, RV's, Trucks, Classic Cars, Aircraft, Horses,
General Merchandise If it's for sale we have places for it.

Dealers an Stores spend a lot of money every month on their web site. Our program drives traffic to YOUR web site through YOUR ads. We use YOUR inventory an direct the traffic into YOUR web site for the ads. Ask any of the clasifieds you pay hundreds every month to do that for ya. Not gonna happen... You want the people to come into your site.

Have a service or a small Mom and Pop Family business your looking to promote on the internet? If you have a web site we can help promote it for you for FREE!!!