WELCOME TO
THE CLASSIFIED TRADER
Trading Classified Listings For The Internet
RV Related Classifieds and Web Portals.

The Classified Trader trades classified ads for a wide range of RV sites. We will not accept a datafeed from ANYONE. That is all yours we do not want one nor will I accept one from anyone. So don't think one is getting anymore then the rest. You give datafeeds for free an you take them for free.
Keep it that way, We don't want one.

Does your classified site NOT accept a datafeed? Link up with The Classified Trader an start getting Ads placed on your site manually.

Ad Display

Ads display the site that the dealer requests or comes into us from to display the details of their units. This is a free offer to all classifieds today to join The Classified Trader to have your Dealers display YOUR details page unless requested by the dealer.


Web Site Display

Web sites who work with us will be displayed accordingly. Frist in first at the top. RVClassified.com will be placed at the bottom of the list of sites coming in from.
Private ads will have the site name on the top of the ad.



Have a website your looking to get traffic into? Add the Classified-Trader menu 2.01 to your web site an start getting thousands of dollars worth of Company Advertising on 100's of Local State and National web sites. Best of all it's FREE!!!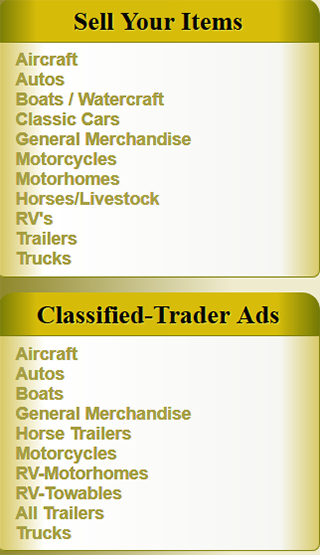 Marketing Stats

We start you off with 250,000 impressions. As your site brings in classified listings you get advertising impressions.
Free Ad - 1,000 impressions
Basic Ad - 4,500 impressions
Standard Ad - 15,000 Impressions
Featured Ad - 45,000 Impressions